Karen McAlpine, a teacher at Mount Prospect Academy couldn't contain her excitement when she heard the news. Just days after returning from the SeaPerch Robotics Competition in Durham, New Hampshire, she learned her students had earned top 10 honors.
McAlpine, along with fellow instructor, Connor Sullivan assembled their team of 2 middle and 4 high schoolers back in January as part of their Adventure Science class. Their goal was to participate in the competition while incorporating the rigorous process of preparation into their curriculum.
"It starts with a kit," she explained. "The kit contains everything you need to assemble a remote operated vehicle (ROV), designed to not only follow the commands of its human operators but to endure the challenges of functioning underwater. We actually ordered 3 with the intention of putting the best performing ROV into the competition."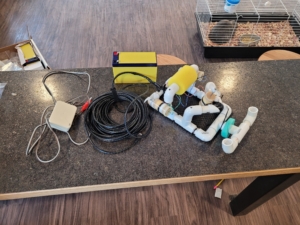 Assembling the robots was no easy task. The accompanying instructions were limited and the whole process required lots of problem solving and ingenuity. McAlpine's students proved up to the task. The whole MPA campus was abuzz with how quickly they took to designing and creating their vehicles. By the end of February they were ready to test them. The challenge was, they didn't have a facility on campus in which to do so.
"That's where Alex Ray stepped in," McAlpine said. "You can't just wait until the day of competition, throw them in the water and cross your fingers. Alex gave us access to the pool at the Common Man Spa so we could see first hand how each ROV was responding and practice maneuvering and working as a team."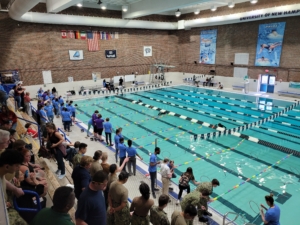 The competition itself consisted of 3 separate judging categories. The first was a technical design report, where students include data analysis to describe the process of their engineering design. The remaining two involved actual operation, which included maneuvering the ROV underwater through a series of hoops, around obstacles and in patterns that simulate ocean mapping techniques. One task even included pushing and picking up odd shaped objects on a steep ramp. At no point were adults permitted to assist. 2 students were in charge of operating the vehicle; 2 guiding the tether, while the others provided technical support and helped document their experience.
"We placed 10th out of 26 high school teams. Pretty good considering our team included middle schoolers and we were competing against some formidable opponents like Phillips Exeter Academy."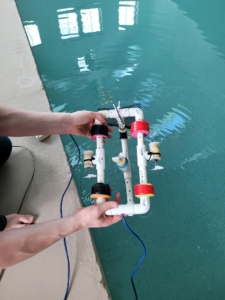 For now, McAlpine plans to keep the ROV and other competition mementos on display at the school so others can share in their accomplishment. But there's no resting on laurels, as she and the students are already preparing for an even better showing at next year's competition.
"I think what Karen, Connor and the rest of our team here at Mount Prospect Academy does is incredible," says John Fulp," Superintendent and Director of Operations at MPA. "Remember, we're a placement school, committed to taking in kids who are having difficulties being successful anywhere else. It just goes to show that everybody has the potential to achieve great things. Sometimes we just need to teach differently; get kids excited about something and let their natural curiosity take over. I couldn't be more proud of our team here and what they accomplish, every day, with our amazing students."
https://www.mountprospectacademy.org/wp-content/uploads/2023/04/20230327_094731.jpg
1512
2016
Sarah
https://www.mountprospectacademy.org/wp-content/uploads/2021/05/logo.png
Sarah
2023-04-27 17:48:45
2023-04-27 17:48:45
Mount Prospect Academy Scores Big At Robotics Competition