At a luncheon ceremony in their Career Development Center in Plymouth, Mount Prospect Academy presented the Plymouth Police Department with a check for $10,000. The donation stems from a phone call Plymouth Police Chief Alex Hutchins had with MPA's President, Jeffrey Caron.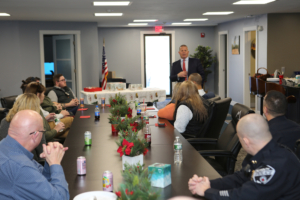 "I recently assisted Mount Prospect Academy staff here in Plymouth in a high-stress situation involving one of their students," explained Hutchins. "I was impressed with how the staff conducted themselves in a professional manner while de-escalating the situation. It was obvious to me that these staff members had been well trained for these types of situations. I really felt that they needed to be recognized, so I contacted Jeff to offer my commendation to his team. Jeff was very appreciative and asked if they could assist us in any way."
The result was two financial donations, totaling $10,000 to be used towards active threat resources for the town of Plymouth and surrounding communities. "MPA never overlooks the fact that we are more than just a school for at-risk kids," said Jeffrey Caron at the presentation ceremony. "We're a part of several communities, including Plymouth, Campton, Rumney, Warren and Pike. As such, we're not only here to help our kids, but our communities. When Alex mentioned initiatives that would benefit from community support, I saw an opportunity for us at Mount Prospect Academy to help out."
On-hand was the MPA Plymouth team recognized by Chief Hutchins. They included Nayou Shar, Devin Michalewicz, Clayton Scala-Habert, Andrew Fosher, Adelaide Schumaker and Hilel Gubenko. The funds will be used to purchase equipment, tools and supplies to better prepare the department in case of an active threat situation in Plymouth or area towns. In keeping with MPA's mission, a portion of the money will also be used to purchase supplies for community events to continue to connect the police department and the community.
https://www.mountprospectacademy.org/wp-content/uploads/2023/01/826B0684_4.jpg
792
1636
Sarah
https://www.mountprospectacademy.org/wp-content/uploads/2021/05/logo.png
Sarah
2023-01-16 19:37:58
2023-01-16 19:38:58
Mount Prospect Academy donates $10,000 to Plymouth Police Department