This fall, over 84 golfers converged on Owl's Nest Golf Resort in Thornton for the annual Mayhew/McDermott Memorial Golf Tournament, an event MPA has hosted since 2013. It was a beautiful fall day, with unseasonably warm temperatures and a backdrop of fall foliage on full display.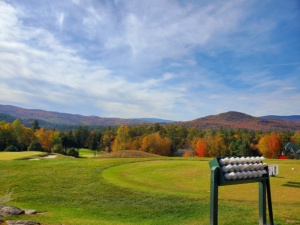 The tournament is named after Dave Mayhew and John McDermott who both tragically passed away in 2013. Dave worked at MPA as Assistant Director of Academics. John was a Director of Operations.
After their passing, MPA leadership decided to start the tournament, with monies raised to benefit the aptly named Mayhew/McDermott scholarship fund, which provides current and former students with independent life skills assistance. Any current or former student can apply, which includes an essay submission as well as information about the request and their budget needs. Past scholarship recipients have used the funds for such things as the purchase of a bicycle for transportation to work, tools to help further a career, summer camp tuition, job interview clothing and job-related laptops.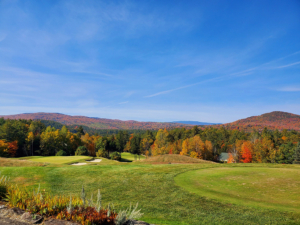 The tournament would not be possible without the financial assistance from individuals and sponsors. In particular, companies such as Kinney Pike, Lockton, One Digital, PretiFlherty, Passumpsic Bank and White River Toyota have consistently stepped up to the plate over the years to sponsor holes and foursomes, allowing organizers to not only cover the expenses of hosting the tournament but growing the Mayhew/McDermott scholarship fund. To date, the scholarship fund has supported numerous students through the years.
Winner's of this year's tournament were the team from Becket: Christian Wolter, Dan Elliot, Tom Peters and Ben Peters. They shot 18 under which is commendable, a birdie on every hole! They were presented with a custom-made trophy, built and designed by MPA wood shop students. In the end, all the golfers left winners, having experiencing a day of golf with friends on a stunningly beautiful day. Organizers noted that the weather is always superior for this late fall event. It's as if Dave and John are there in spirit, smiling down on their MPA friends and family.
https://www.mountprospectacademy.org/wp-content/uploads/2022/12/Golf2.jpg
756
1008
Sarah
https://www.mountprospectacademy.org/wp-content/uploads/2021/05/logo.png
Sarah
2022-12-13 21:43:32
2022-12-13 21:47:44
MPA hosts 9th annual Mayhew/McDermott Memorial Golf Tournament