It's not often you meet a teenager with the skills to change the oil in an automobile, repair its brakes, exhaust or suspension, let alone swapping out its engine. At MPA's Career Development Center, it's not such a rare sight after all. 
Meet the kids of MPA's Livermore Automotive Center, an approved classroom that is a full service, auto repair shop located in MPA's Rumney Career Development Center campus. The program was started back in 1993 as part of the school's experiential learning program. Jeff Caron, MPA President, brought his vision of "vocational learning" to then part-time instructor at Laconia Community College, Dave Morrill, offering him a job imparting his mechanics skills to at-risk kids at MPA.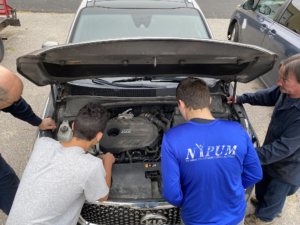 "Jeff had incredible enthusiasm and this idea that, if kids split their school time between the classroom and real, hands-on work, it would boost their self esteem and confidence, ultimately improving their behavior."
And he was right. Since those early years of working out of a 1-stall garage in an abandoned wood shop to the now, state of the art automotive center, complete with 2 lifts and superior air and electrical systems, the program has thrived. Hundreds of students have benefited from Dave's expertise, taking their skills outside the school and applying them in everyday life, some even pursuing careers in the automotive field.
"We typically have 6-15 kids each week in the shop performing work on company vehicles and those belonging to employees," Dave explains. "We run the classroom just like any other business out there in the community. We make appointments, troubleshoot, diagnose, repair and invoice. And the kids help from start to finish."
Jeff Caron notes that behaviors improve when students participate in hands-on, academic learning. "Statistically, we have very few behavior issues when students have hands-on learning opportunities. They gain confidence and realize they can succeed in a field of their choice."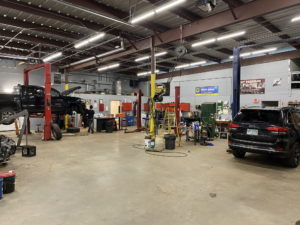 These days, Dave and fellow mechanic, Ray Whitcher can be seen under the hood of numerous projects with eagerly listening students. Just recently, Ray supervised a student changing out the engine of a Kia Sorento. "Well, I was more of a bystander," Ray admits. "That kid knew what he was doing – even figured out the wiring harness was faulty and swapped it out before I noticed it was a problem. It kind of made me proud. You don't see many 14-16 year olds with those skills."
The Livermore Auto Center services over 60 of MPA's own vehicles and gives precedent to MPA team members, alumnae and their families. Dave is quick to point out that the school isn't looking to compete with local businesses. "Our main purpose is, and will always be, to teach kids to be successful. We just so happen to do it with a wrench, not a pencil."
https://www.mountprospectacademy.org/wp-content/uploads/2022/09/IMG_0715smaller.jpg
1512
2016
Sarah
https://www.mountprospectacademy.org/wp-content/uploads/2021/05/logo.png
Sarah
2022-09-30 15:29:32
2022-09-30 15:30:03
Under the Hood at MPA Automotive Center