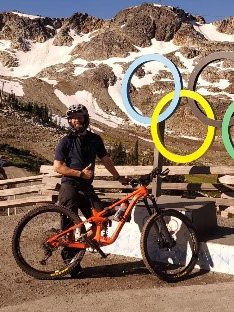 Hello friends and colleagues!
I'm writing you all from the gate of Logan Airport on the first leg of my journey to compete in the Enduro World Series at the 2010 Olympic venue in Whistler, Canada.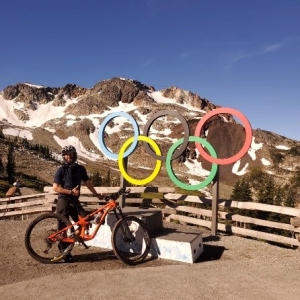 This has been a goal of mine for the better part of a decade and I'm finally able to compete on the world stage thanks in part to support from Mount Prospect Academy. In just my short time here the team has helped me grow and develop as a professional and the support I have received is beyond what I could have imagined. Thank you all for everything and I would not be in this position without that support and such an awesome environment to flourish.
Some people close to this have requested that I share this adventure with the broader MPA community. Please feel free to share these resources and stories with students and the wider community. I'll try to check in regularly and I would love to host a zoom call on location at some point closer to the race. (Briefly-ish) I'll describe what I'm doing below.
Enduro mountain bike racing is a high-speed downhill oriented stage race. Riders must navigate technical terrain while racing downhill stages, but then must climb back to the top of the mountain in the untimed portion of the race to the next timed stage. Typically the races have 4-6 stages in a day and take 4-8 hours to complete, alternating between high intensity all out racing portions and untimed jovial transfers. This race format tests the combination of all day fitness and technical skill in mountain biking, which separates it as a uniquely demanding race discipline from Downhill and Cross Country mountain biking.
The Enduro World Series is the highest level of competition in the sport of enduro and only the world's top 350 ranked riders are invited to enter the 8 races that occur across the world. This season I will compete in five races, Whistler Canada, Burke Vermont, Sugarloaf Maine, Crans-Montana Switzerland, and Loudenville France. While it has been a dream of mine to qualify for this level of competition, I would not encourage you to hold your breath for a top result. My goal is simply to finish and watch with eyes wide open how the best in the world perform as I learn the process of going from really fast to ludicrous fast.
Just to add some "fun" factor to this race and add to the experience, I plan to peddle my bike and all the supplies I require for the week from the airport in Vancouver to the race venue some 120 miles away in Whistler. Here's hoping the OE curriculum has taught me something about building a shelter and staying dry!
I've included some links below from those curious about the format and where you can follow along.
Live timing for Aug 5+6 race:
https://www.enduroworldseries.com/live/
Previous EWS coverage from 2019 Whistler:
What is enduro? 5 minute explainer.
https://www.mountprospectacademy.org/wp-content/uploads/2022/08/Template_JustinL.jpg
312
234
Michael
https://www.mountprospectacademy.org/wp-content/uploads/2021/05/logo.png
Michael
2022-08-31 18:58:37
2022-08-31 18:59:59
Justin Lagassey