On the first of June, Mount Prospect Academy held an awards night for the staff who have been a part of MPA for 5 years, 10 years, 15, 20 and 25 years. The faculty of MPA were invited to the Common Man's "The Barn on the Pemi" from 5-8pm for an awards ceremony, accompanied by dinner and drinks. To kick off the ceremony, MPA's Director of Operations, John Fulp, said a few words. Fulp talked about the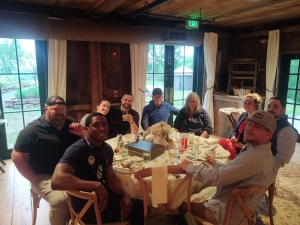 obstacles that MPA has faced through the duration of COVID-19 and how Mount Prospect Academy has continued to work as a team to overcome the hardships the company and the schools face. He explained that Mount Prospect Academy continues to grow stronger with the people and strategies they continue to use. Fulp closed by saying,"we just keep getting better and better and that's because of all you folks and all of us working together. So thank you everyone; thank you to those who have stuck with it year after year, we are able to honor you tonight." The microphone was handed to Mount Prospect Academy President, Jeffrey Caron, where he also showed appreciation to the staff within the room. Jeff spoke of their longevity at Mount Prospect, whether it was 5 years at the company, or 25 years. There were different gifts presented to the staff depending on how long they have been with MPA. Jeff pointed out that not only is MPA creating careers to help kids, but it's also a fortunate place that allows staff to change lives, for as long as 25 years. He spoke highly of the mini biking trip (National Youth Project Using Minibikes; ie NYPUM) that he and Jay Marshall, Head of Schools, went on earlier with 6 students. He explained how smooth, civilized, and pleasant the trip had been, showing that having great trips with the students of MPA is due to the amazing faculty and staff who work with the kids. "Treating students with compassion and leadership allows these children to respect themselves, their environments, and others around them.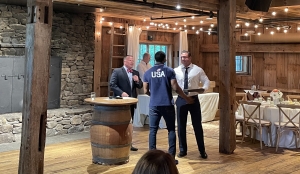 Working for MPA is beneficial not only to the students, but also to outsiders and our surrounding communities. The attraction Mount Prospect Academy creates, encourages other companies and corporations to want to be a part of something so influential and impactful." As Jeff Caron, John Fulp and Jeff Park hand out awards to MPA staff recipients, there is a light and grateful atmosphere; as everyone acknowledges their roles within a business that has one main goal: to better the education and environment of our youth.
Recognized were:
5 Years Award:
– Don Jones
– Rebecca Moulton
– Megan Smith
– Paul Thomas
– Corey Tower
– Dori Craigie
– Rob Alvey Sr.
– Harry Bearden
– Josh Colle
– Mike Burnham
– Becky Drapeau
– Jessie Gaudioso
– LeRoy Hollis
– Tyree Jones
– Derek Pitcha
Recipients for the 10 Years Award:
– Karen McAlpine
– Mark Labonte
– Richard Moulton
– Bill Greene
– Joe Cristiano
– Tom Corbin
– Lacy Hunt
– Mike Adamkowski
Recipients for the 15 Years Award:
– Chris Boyd
https://www.mountprospectacademy.org/wp-content/uploads/2022/06/IMG_3670-scaled.jpeg
1920
2560
Rebecca
https://www.mountprospectacademy.org/wp-content/uploads/2021/05/logo.png
Rebecca
2022-06-02 18:02:56
2022-08-31 18:24:42
Awards Night