"At approximately 8:32 pm on Monday, September 5, a murder was reported at Resident Camp Kikakee, which is located at Lower Baker Pond in Wentworth on Route 25a. The murder was reported by the Cook, a foodservice staff member at Camp Kikakee. The victim was identified as Frederica Cowlea. The believed cause of death was Possible Homicide/Drowning."
It's a story one might expect in TV's "CSI" or ripped from the front page of the Manchester Union Leader, when in reality (or more like science fiction), this case is at the center of a learning experience for a lucky group of students at Mount Prospect Academy.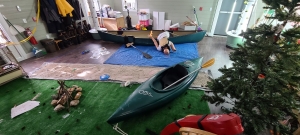 Meet Corey Tower, an Adventure Science instructor at MPA's Plymouth campus. Corey, along with fellow instructor Karen McAlpine are leading a forensics class in Adventure Science this spring.
"We created a fictional crime from scratch," he explains, "complete with backstory, a crime scene and evidence. We have several faculty participating as 'suspects,' while the entire class is tasked with gathering and analyzing evidence, facts and testimony which they will then use to formulate a case and identify likely suspects."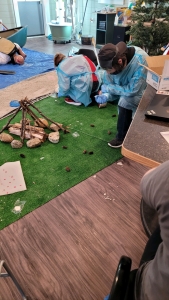 The class has been learning about forensic science in the classroom, including basic skills, deduction, fingerprinting, fabric analysis and blood typing. They then apply what they learn in the "real world," which in this case, is a crime scene staged with physical evidence planted by the instructors. Students are given time to study the evidence while instructors observe and offer information relative to the case. They're given a week to analyze their findings, come to a conclusion and then build their case against their prime suspect.
"The kids are learning all different facets of science as well as chemistry and deduction. There's a level of excitement here you don't usually see in a school setting because we're actually getting them out of the classroom and into a real-world situation. It's science in action. In my opinion, the best way to learn."
One could argue the class extends far beyond science, to psychology, public speaking and criminal law, as the classroom is transformed into a mock courtroom, where students are tasked with presenting their case, using physical evidence and witness testimony, before a judge and jury (played by faculty and their fellow students).
Corey and the Adventure Science team have more adventures planned for the months ahead, including an underwater robotics class, a camping trip to Pennsylvania, which includes 4 days of paddling over 28 miles and an ocean kayak trip in Maine. Just another example of the power of adventure-based learning at Mount Prospect Academy.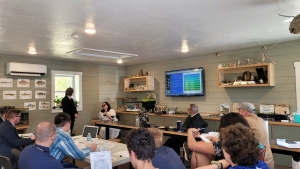 https://www.mountprospectacademy.org/wp-content/uploads/2022/05/20220420_100617-scaled.jpg
1153
2560
Sarah
https://www.mountprospectacademy.org/wp-content/uploads/2021/05/logo.png
Sarah
2022-05-18 13:04:36
2022-08-31 18:24:50
MURDER IN WENTWORTH