Recently, the Mount Prospect Academy's Student Council sat down and met as a team to discuss topics to improve and better their facilities. The 4 students, and 8 faculty met at noon to eat lunch and follow with facilitating discussions on ideas that ranged from making student handbooks, to creating a career day.
The MPA Student Council was created by Mount Prospect Academy's Richard Potack with the help of Denise Castonguay in the 2013-2014 school year. The purpose was to give students a forum in which they could have a direct and long-lasting impact on the school; where they could make changes for themselves and each other, while learning about how governments operate on this and other levels in the outside world.
The Student Council at MPA is important for student life because they address and tackle issues important to their community as well as making sure students' voices are heard. Much of what this group is focusing on, is how to save the environment and how to create better environments around the students. These students are working to make a change within their community by using leadership tools to work together and make a difference.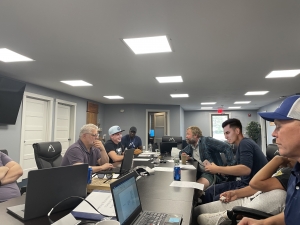 The Co-Student Council Presidents, led the meeting by inviting everyone to introduce themselves and then turning to business as they began reading the student council's agenda and discussion notes. There were many discussions and conversations that took place within the meeting, many important ideas were brought to the table; for example, creating a logo for MPA Student Council so that merchandise can be embroidered, creating more after-school activities, such as a soccer team, and basketball tournaments, a band, and a zen garden, as well as improving the MPA school store by creating and handing out a survey to ensure that the school store is carrying material that the students want to purchase.
One of the bigger announcements that was made within the meeting was the opportunity to meet and work with someone from the "You Got this Kid" campaign. Chuck Saia's "You Got this Kid" campaign is a leadership foundation that evokes positive change for youth. By working with this organization, the Student Council will participate in a workshop to develop better leadership skills and act to fundraise for a new green house. By enhancing leadership skills and raising money for a greenhouse, the student council will encourage saving the environment while creating another activity to partake in.
The Mount Prospect Academy Student Council carefully debated and reviewed numerous issues that are important to the students of MPA to provide advancements within the facilities and environments surrounding the schools. By addressing recycling issues, gym renovations, career expansion, and expanding curriculums, they are taking action in bettering programs and student life.This group is working to challenge themselves and each other in empowering their voices and ideas to boost and promote their progress!
https://www.mountprospectacademy.org/wp-content/uploads/2022/08/Student-Council_edited-scaled.jpg
1920
2560
Rebecca
https://www.mountprospectacademy.org/wp-content/uploads/2021/05/logo.png
Rebecca
2022-08-23 18:55:00
2022-08-31 18:24:31
Student Council at MPA