The 2023 Plymouth Area Softball League wrapped up its season and our MPA team came out winners! . . . well, not necessarily in the standings, but sometimes accomplishments can't be measured by a scoreboard. 
2023 marked the first year MPA has ever fielded a team in this popular area league. And it wouldn't have happened had it not been for Jessie Gaudioso and Steve Meier.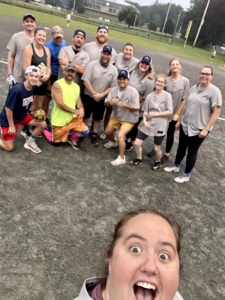 "I had achieved some success playing sports in college and was looking for a way to stay active locally," says Jessie Gaudioso, Principal, Karen Langley Learning Center, Mount Prospect Academy. "Steve & I had known about the local softball league, there is history for us, and thought it might be a great way to get involved again in competitive sports, while also engaging with our workmates outside the office."
In order to start a team, they needed a sponsor. That's when Jessie approached Jay Marshall, Head of Schools at MPA.
"He jumped at the opportunity to help out. He not only offered to sponsor an MPA team for the Plymouth league but the neighboring Lincoln League as well."
The core group of 2 quickly recruited nearly 40 of their workmates, friends and family and the inaugural MPA Softball Team was born. They competed on Monday and Tuesday evenings throughout June and July in Plymouth, and Sunday mornings in Lincoln. It's a coed, slow-pitch league so everyone is encouraged to play, although each team is required to field at least 3 women at a time to keep the teams on par every inning.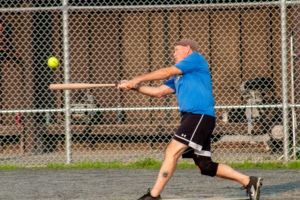 "It's a very family-friendly atmosphere. That isn't to say we're not out there every day looking to win. Some of our teammates have never played softball before, but a core group of us are able to play alongside them, teach them the basics and cheer alongside them when we record an out or drive in a run."
In the end, they finished in the back of the pack of 9 teams but consider the experience a huge success. They created quite the buzz in the MPA community, with aspirations of recruiting enough players next year to field 2 teams. And those outside the MPA community, in the form of opposing teams, got to learn a little more about the school by meeting, interacting and learning first-hand what MPA does and who they service.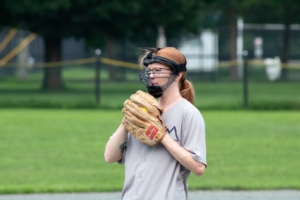 "What got me most excited was the camaraderie we built over the course of the summer. You're playing with workmates who you sometimes only speak with over the phone. It fits in so nicely with our wellness initiative here, which is basically to take care of yourself outside of work. There's also so much to learn out there on the ball field: How to strike out and get back up there and try again; lift each other up; celebrate the highs and lows, together. It's what we try to instill in our kids in the classroom. Putting it to work on the ball field."
https://www.mountprospectacademy.org/wp-content/uploads/2023/11/IMG_8573-scaled.jpg
2055
2560
Sarah
https://www.mountprospectacademy.org/wp-content/uploads/2021/05/logo.png
Sarah
2023-11-28 17:53:35
2023-11-28 17:53:35
Field Of Dreams